Evans brothers keep it in the family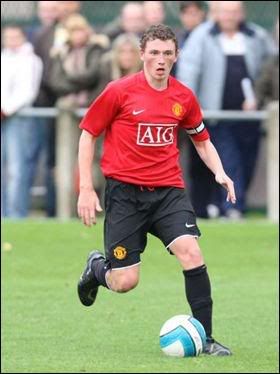 The fortunes of Jonny Evans have truly been mixed in the last few days. He went from the elation of the Carling Cup Final on Sunday to his forced withdrawal from the Northern Ireland squad which faced Albania on Tuesday night due to a knock picked up at Wembley.
That disappointment proved to be a blessing for his younger brother Corry who was promptly called up as a replacement.
The young Manchester United midfielder was introduced at the break and settled in well after helping the under 21s defeat San Marino 3-0 the previous night.
Manager Nigel Worthington hailed the performance of the rising star saying "It was a good honest performance by the team in the second half. One of the reasons was young Corry when he came on in midfield. He wanted the ball, passed well and was neat and tidy. These are the simple things that can help change games."
"I have a lot of time for Corry. I have worked with him the last two and a half years. I have watched him closely and that was a typical Corry Evans performance. I must admit it was refreshing to have him here and see what he has achieved tonight."
The 19-year old won many admirers with his second half display and showed enough to suggest that he may soon join his older brother in the United midfield