Why Shinji Kagawa needs a run of games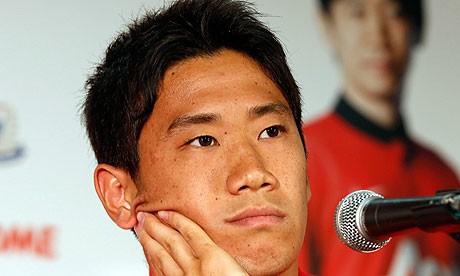 Follow 

Eddie

 on Twitter
Come on Moyes!! Play Shinji!  Over the past few weeks, these have been the overtones expressed by some of the Manchester United faithful.  Recognized as a creative playmaker, Shinji Kagawa is a player you want to see on the pitch.  The fans got their wish as Kagawa got his second start of the season.  Yet, the Japanese playmaker put in a mixed performance against Liverpool which in some ways justified why Moyes hasn't been incredibly keen to play him.
In fact, his performance seemed to draw more questions than answers. Did he do enough to start the next game? How are we going to fit him in with Rooney playing in the hole? Does Moyes even rate him? Is his United career going to end up like Veron? Time will tell but with Moyes just beginning his time as Manchester United manager, there is no need to rush to conclusions.
Kagawa actually had a good start in the first half. Combining with Giggs in Liverpool's box and supplying a deft touch for Rooney to start off a counterattack 10 minutes into the game.  However, as Liverpool grew into the game, Kagawa's impact began to fade and unfortunately, so did his confidence.  Pushed off the ball, slack passing, poor defensive positioning, for a good spell, Kagawa looked genuinely lost and unsure which positions to take up.
Liverpool's system of 3-5-2 with wing-backs caused some confusion.  Sturridge/Suarez would peel into the wider areas, while Henderson tended to drift centrally while being deployed as a wing-back.  Kolo Toure ventured from deep, stationed as the right centre back which at times caused an overload of 3 v 2 on United's left flank.  A tactic designed to exploit Buttner's positioning.
It wasn't until after switching back to the left flank after spending a brief spell on the right did Kagawa seem more assured in his positioning.  The most telling sign of this change occurred a minute before half-time as Kagawa stepped in to make an interception.  While it may seem largely irrelevant, it was telling for how he approached the second half.
Chicharito's goal gave the whole team a lift and Kagawa certainly benefited from it.  Deployed on the right with Rafael, the Japanese playmaker set up Rooney for what looked to be a shot on goal only for the forward to take an extra touch and spurn the chance.  Then came another opportunity through Chicharito's pass from de Gea's kick.  Maybe on another day Kagawa would have been able to put Nani clean through but the pass was enough to create another goal-scoring opportunity for United.
Kagawa was starting to brim with confidence and a quick nutmeg on Gerrard displayed just that.  His last meaningful contribution came around the 64th minute where he completed a swift turn around his marker before unleashing a shot with his left, skidding off the top of the crossbar.  It was by no means vintage Kagawa, but the signs were certainly encouraging.
So why should Kagawa get a run of games? If his performance was so average, why does he deserve to start against West Brom? Assuming Kagawa is in Moyes' plans, you'd think he would focus on getting one of his first-team players up to speed.  Moyes stated post-match, "A lot's been said (about his lack of playing time), but I think most people who watched would say he's still short of being really at full match fitness." If he's not at "full match fitness" then he needs to play otherwise, he won't become fully match fit.
His stats against Liverpool appear favorable enough. 91% pass completion, 1 tackle, 1 interception, 2 clearances, 3 key passes (took Valencia 4 matches to reach this) and 3 shots with one hitting the crossbar. Despite his mixed performance, what Kagawa brings to United's attack is unique.  His intelligent movement, quick feet and appreciation of space constantly asks questions of the opposition as his unpredictability brings about a certain tactical flexibility in United's attacks.
Against Leverkusen, he constantly drifted from the left flank looking to occupy the gaps in between their defensive lines.  Bayer took note of his runs and anytime he moved central or received the ball there were two or more defenders surrounding him.  As a result, it left space for Rooney, van Persie to exploit the gaps while allowing either Carrick or Fellaini to push forward to serve as an outlet and advance play.  It's the type of play you won't see from Valencia or Young and will give David Moyes something to ponder.  It's no coincidence United looked arguably more fluid against the Germans than against any other opponent this season.  You could say the team's performance against Liverpool was on similar levels and for similar reasons.
What Manchester United fans need to understand about Kagawa is he is a playmaker in the truest sense of the word. I see him as very comparable to Özil.  Neither are blessed with strength or pace but are blessed with clever passing, movement and imagination.  Your playmakers will only be as good as the movement that is in front of them.  Hence, why Kagawa was so instrumental at Dortmund. It wasn't just because he was played off the striker but his teammates constantly complemented his movements with intelligent runs into space which gave Kagawa more passing options.
One of United's main criticisms recently has been a lack of movement in the attacking third.  If it's something which is not rectified then no matter if we play Kagawa in the hole, he will not perform well for us. It's not an easy concept to understand as you want these type of players to impose themselves on the game.  Yet, like Özil, Kagawa is very much a team player so if the team is not playing well, it will be harder for him to shine.  It explains why they are more likely to become isolated in certain spells during a match.  Despite this deficiency, they show their worth through their ability to break defenses down and that is primarily why they are there.
For Kagawa, the more playing time he gets, the more he'll become accustomed to his teammates' movements on the pitch. It will allow him to anticipate where and how he needs to pass the ball as he builds partnerships with other players. This is why he needs a run of games so he can build these partnerships with Rooney, van Persie, Nani, Hernandez and our other attackers. He's not a Ronaldo, Bale, Rooney type of player who can make an instant impact on any team.  Perhaps this is why so many of our fans like to see Januzaj play.  He exudes a certain type of fearlessness and has no qualms in taking the game to his opponent.  Kagawa has the ability to take on his marker but he prefers to hurt the opposition in a different way.
Additionally, if Kagawa is going to thrive here, he will need to know that Moyes has faith in him and his ability. If you take a look at David Silva during his time at City, although his style of play is slightly different to Kagawa, he received a vote of confidence from Mancini from day one.  Silva struggled to deal with the pace of the Premier League in his first season. However, by accumulating all those appearances, he was able to show some devastating form in the following season.
Kagawa hasn't been afforded that luxury and unlike Ashley Young, has not been given a run in the team even though the latter has not performed well for some time.  We know his injury spell last season hindered his adaptation into English football but even when he played well, instead of playing in the next game, he was more likely to sit on the bench.  It's not often that a manager drops a player after scoring a hat-trick but that's exactly what Sir Alex did.  We all know Sir Alex is one of the greatest managers of all-time but it was shocking not to see him reward good form when he's had a track record for doing so throughout his managerial career.
Now under the tutelage of Moyes, Kagawa has to prove he deserves to be an established first choice starter. Hopefully he can do just that starting with West Brom at home.  Giving Kagawa a run of games to see if he's cut out for this team isn't the worst thing in the world.  If it doesn't work out, United can at least say they tried to work him into the side. Even if Kagawa does not start on Saturday, it shouldn't mean that he is no longer in Moyes' plans.
Many United fans have suggested Kagawa might not fit into our style let alone Moyes' style.  However, with only 5 games into the Premier League season, can we say with certainty what Moyes plans to do with this team from a tactical/stylistic perspective?  The manager will need time to build his plan.  Moyes' six-year contract is an extension of faith that he will come good.  Let's just hope a certain Japanese fella is part of those plans.
Thanks for reading and enjoy the complimentary Kagawa compilation below!!
Follow 

Eddie

 on Twitter