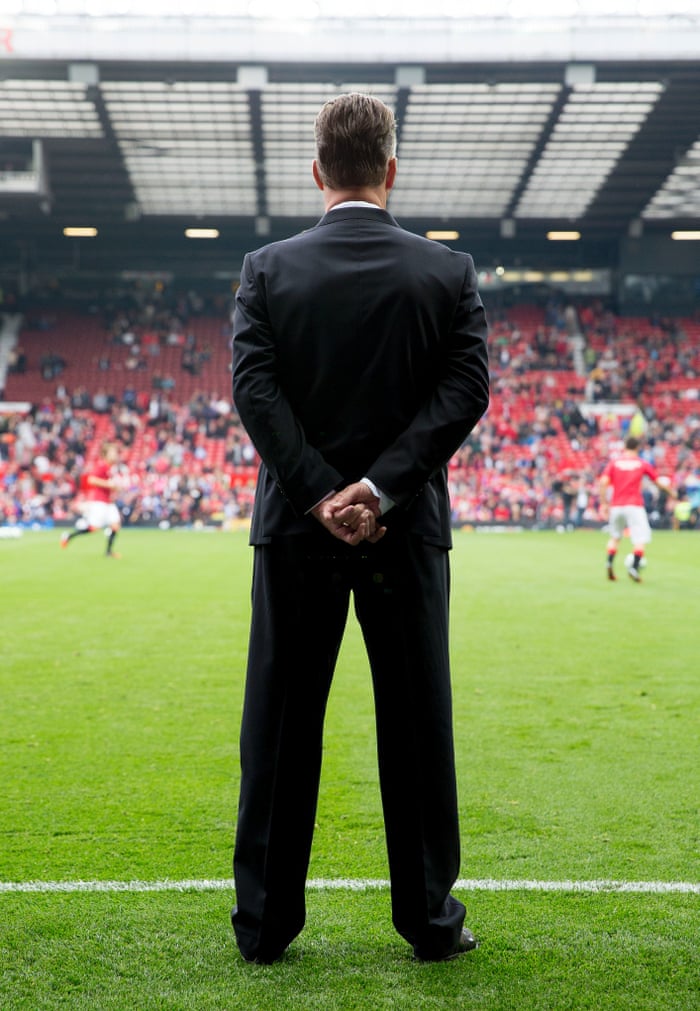 Follow 

Eddie

 on Twitter
Sam: *phone rings* So how about that game eh?!
Paul: Haven't seen it yet. Don't tell me anything. I had the best dream though!
Sam: How could a dream beat that?
Paul: Well, let me tell you! We were imperious! Crowd was up for it! The players were up for it and you just knew QPR were going to be no match for us.
Sam: *pauses out of bemusement*
Paul: You still there? I can tell you more!
Sam: *makes facepalm motion*….Go on…
Paul: Right so, it was just wave upon wave upon wave upon wave of United attacks. It's like we were a completely different team! Free of the shackles from the Moyes era! Di Maria was ohhh-my-fabulous! They couldn't stop him! He was like an energizer bunny. Herrera and Blind had such a brilliant understanding! And Rooney was just being Rooney of course!…..Oh! And did I mention that Rafael was brilliant!!
Sam: And you're sure this was a dream.
Paul: Honest mate! Would I ever lie to you?
Sam:…………*coughs*
Paul: Christ Sam! It was one time! So pedantic these days.
Sam: Anyways, call me back when you check the United website. *hangs up*
Paul: (sometime later) *brings up United website*…..OH MY https://vine.co/v/hUbZ3uiFHzT
Well if we follow that story correctly, I think we all know what Paul realized. Surely there was at least one United fan who felt like that. For the past couple of years, there's not been too much football to get excited about. Our situation, from going to the Fergie era to the Moyes era, was similar to taking a once a week class which is known to be one of the most exciting classes at school(students = the fans).
The class is known to keep you highly engaged, giving you something to chat about with your mates while thirsting for what the next class might bring. And then you find out the professor who taught the class for so long decided to step down and his successor is nowhere near the same quality.
You want to be excited for the course but something just feels terribly wrong after the first day of the class.  It's clear the new professor just isn't right but everyone else is also trying to give him the benefit of the doubt.
It's hard taking over from someone who gave the class so much prestige, to then be expected to keep it ticking over as you adjust to the new environment. So imagine what's it's like for someone who is out of their depth. It seems like the impossible job (*gasps* where have we heard that before?).
As you and your mates seek to see the positives with the class, the overall experience becomes worse as time goes on. Rumours circulate about the professor falling out with some fellow faculty members. No one can really make sense of the syllabus because the professor keeps changing it. His lectures come across as unorganized. Whenever he's asked questions, it looks like he'd rather be somewhere else.
He doesn't look confident in anything he is doing. His "assistants" bear the brunt of all the banter the students use to get through the class. Some students decide to get creative and focus on extracting more comedic value over a precarious situation (picture below).
 "Why isn't anyone listening to me!?!"
He looks a man without the slightest hint of authority. When a supposed authority figure appears devoid of authority, the sheep look as if they don't have a shepherd.  What makes it worse for the professor is the university (the Premier League) uses this class as one of its key strategies to bring students to the school.
However, with the kickback and turmoil under the current professor, they contacted the department (United) to make them aware of their thoughts on the situation at hand.  The department was always aware of the frenzy around this class and felt they had betrayed their current students.  After one of the current students yelled at the previous long-standing professor who came back for a visit, the department knew it was time for change.  The romantic connection which had been built was in danger of being lost.
Fast forward to mid-September of 2014 and primarily all of those horrible memories now seem an afterthought for Manchester United fans.  Some have even gone as far as to say it never happened.  That it was a really bad nightmare we've finally woke up from.  Whatever the case may be, after the dispatching of QPR, you could sense a tingling of newness about Old Trafford and a sense of direction which had seemed so unclear the previous season.
It wasn't just about the performance which was incredibly relieving as United have been playing some mediocre football for quite some time.  We know improvements need to be made. The performance spoke of a byproduct to something different which registered with the players.
Louis van Gaal stated, "I said before the game 'let us make a new start'…we can now work on a team-building process and make ourselves better every week"
Bryan Robson also mentioned, "You need the temperament and mentality to play for Manchester United when it really matters and, at times during our opening games, we've been without that mentality. You can see the ability there in the players, but people seemed to slip back into how they were last season. If you're going to be a Manchester United player, you need to be able to handle pressure."
After the loss to Leicester, all the positivity and momentum which came from an exhilarating performance against QPR seemed to have vanished.  But there were also some positive signs there too which we can look forward to as van Gaal works to build more cohesion within the squad.
Nonetheless, when you see tweets like this, (during QPR match) https://twitter.com/Football_GIF/status/511168206937923584
Vines like this, https://vine.co/v/Oa9p3KYKhuj
Goal celebrations like this, https://vine.co/v/OapD2dx0dzF
Or encouragement like this, https://vine.co/v/OWu9HPtYamq
You can see underneath the surface, there are pieces of this team still coming together. And when they do, the Premier League better watch out.

It's not been an easy week. Beating Leicester would have been a great opportunity to make up some ground in the league.  Yet it provided van Gaal another issue he will need to remedy as the team progresses.  It's a long season with more twists and turns ahead, so let's not lose faith.
I think in the end, you will see how lucky we are to have a manager like Louis van Gaal.
Follow 

Eddie

 on Twitter